And all caught up on the flist (at skip 165 guys, seriously, just stop talking XD).

Point of discussion: what the hell do you say when your father mentions he hasn't called in a while because he's had too much else on his mind - namely, that his wife seems fed up with the relationship? I felt far too awkward to offer any sort of advice...not to mention I just kept wondering what would happen to my half sister if that was the case.

ANYWAY. OTHER THINGS.

Namely, the Animania sort of other things. Below the cut - our Pokemon cosplay...a whole one... (which went down surprisingly well, once people figured out who we actually were) and other photos...primarily of Sunday's massive Naruto group.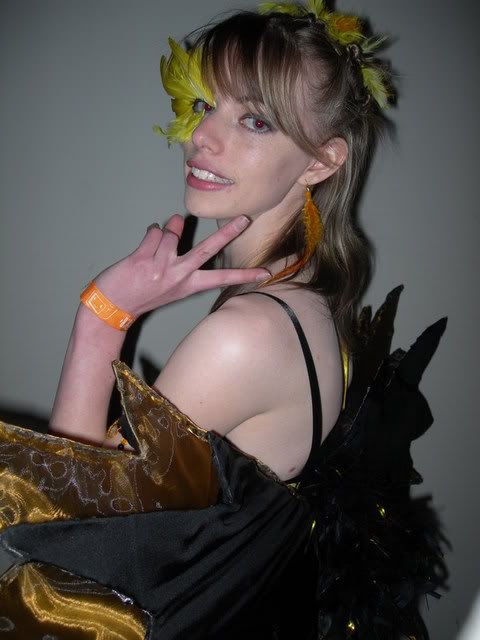 Katherine - our Zapdos. First photo of the day. :D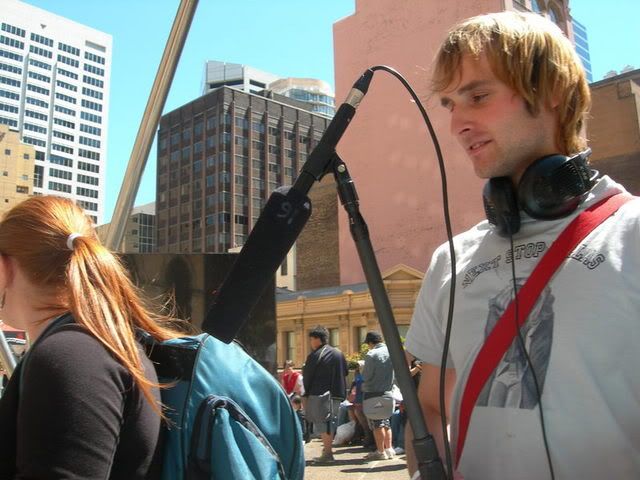 Our camera crew! That's Sebastian on the right and another Katherine on the left...we also had an Erin and (I think) a Gregory. Plus Anna's roommate Pash, who showed up for fun and snuck in for free. XD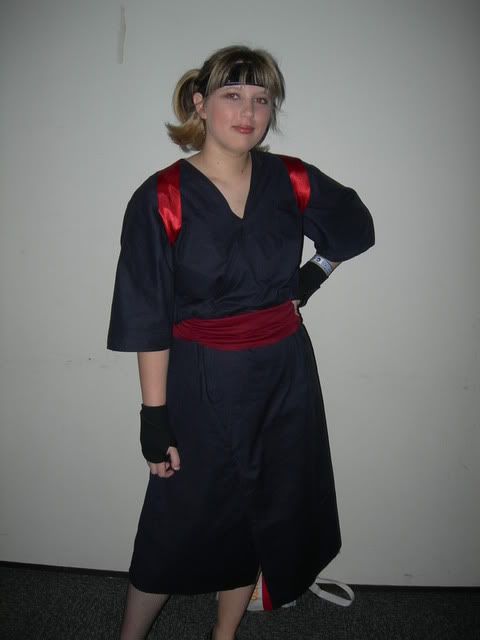 First Naruto cosplayer successfully waylaid. This was on Saturday, but she was a part of the Sunday group - she was lovely, too. Extremely gracious about my photo requests! Also she had a fan but had to check it into weapons, you'll see it later.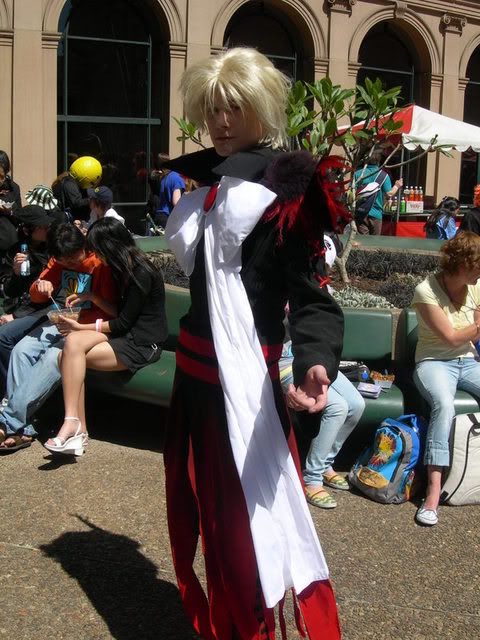 AMBEEEEEER. Seriously one of the most wonderful people EVAR, and someone we run into every year. :D Always has the most amazing details in the costume - not that you can see them in my crappy photo (seriously, why were there so many photos taken outside in the BLINDING LIGHT?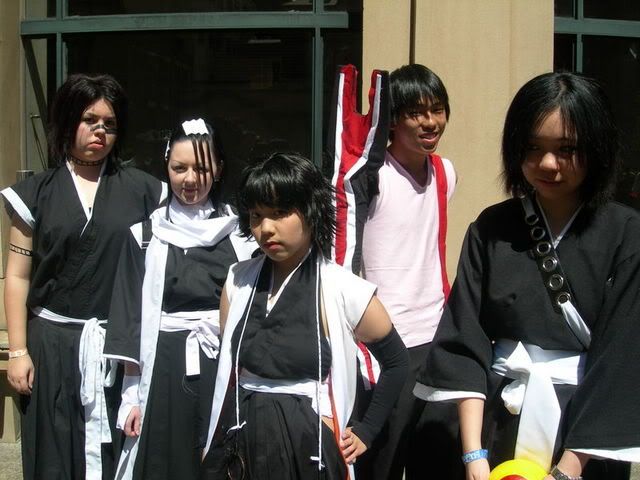 Bleaaaaaach.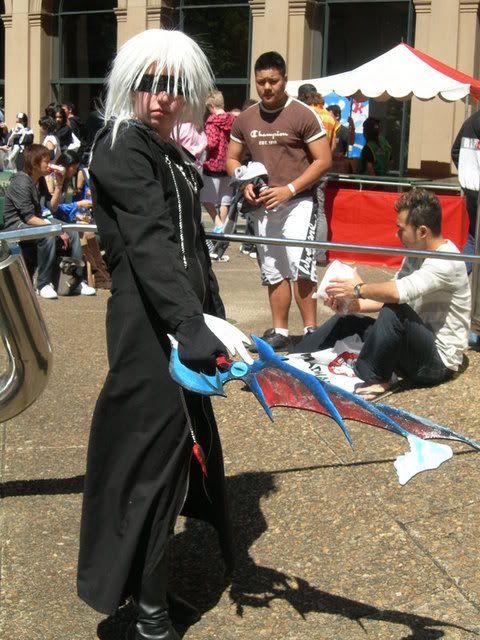 KH2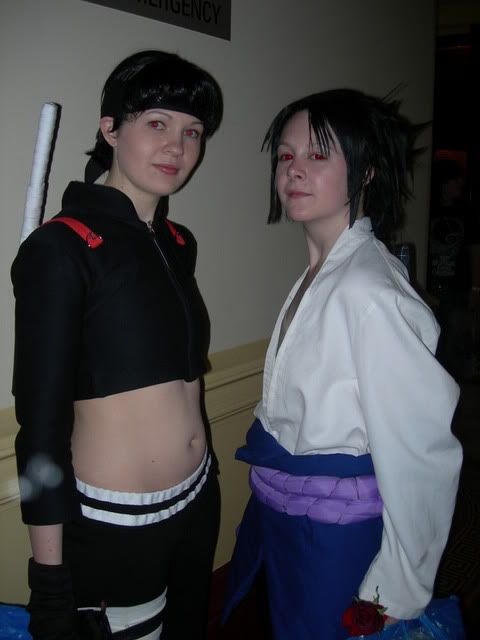 ALSJKHALSKA. Anna can attest to the utter fit I had when I saw these two - the painful result of suppressing a desperate urge to tackle them to the ground (I had wings on! It would have hurt!). Both were fantastic, and...



Got me every time. XD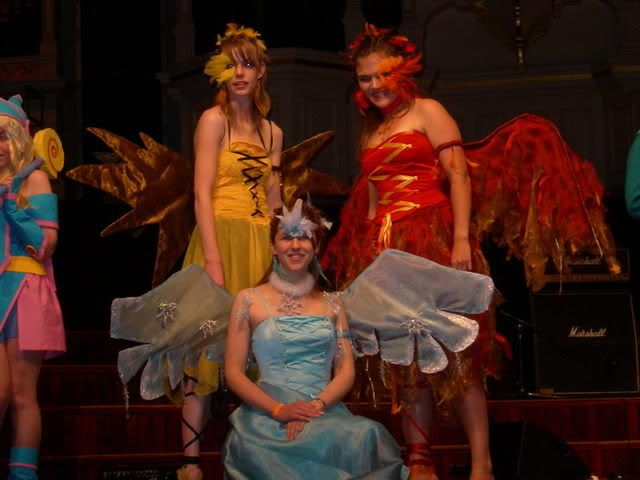 Uuuuuuuuuuussssssssss, looking dorky on stage for the final stage pileup. XD I have no good photos of our hair, but it was all twisted and pulled up into a bun...anyway, when we finally managed to take it all out, we looked a little something like: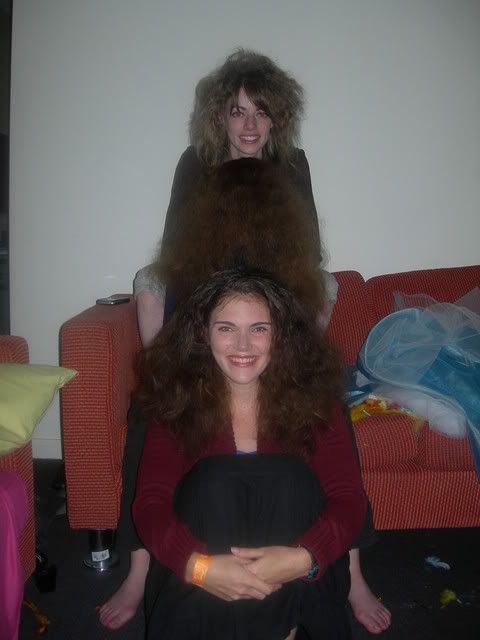 Yes, I am in the middle there. Proof: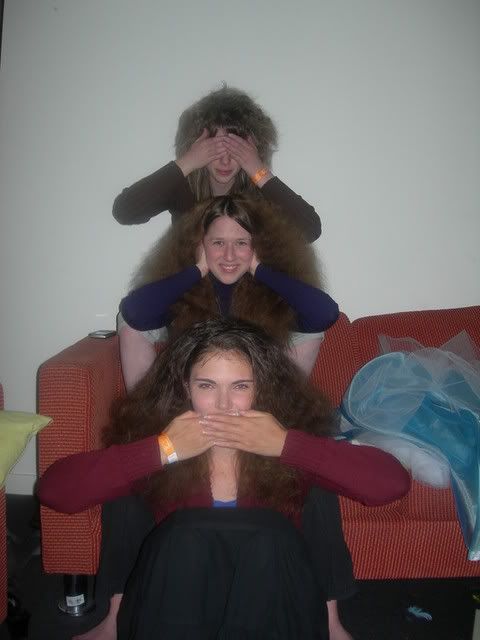 DAY TWO: First cosplayers of sunday. Not a part of the group, but still sweet.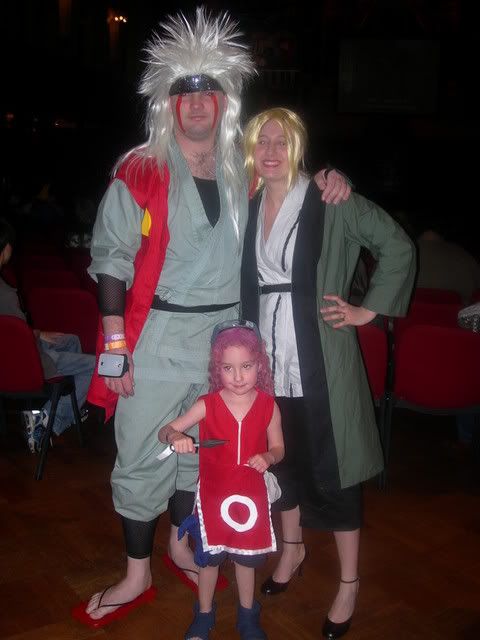 ALKHALSKJALSKJALSK TELL ME THAT'S NOT THE CUTEST THING YOU'VE EVER SEEN. I love cosplaying families.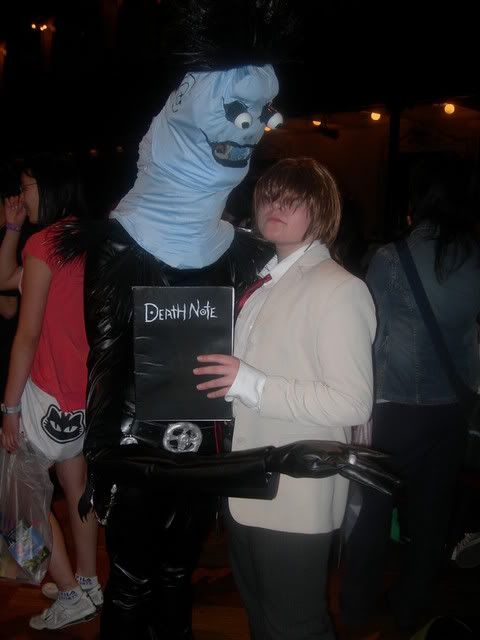 BEST SKIT EVER. You know what I'm talking about. XD

Here begins the Naruto group - I felt sort of sorry for Anna and Katherine at this point. We were on our way to the Hare Hare dance rehearsal when we passed through a corridor that looked out onto the courtyard...and thus the moment of realisation, that went something like:
Me: Oh wow look at the Gaara...Sai's back...the Kakashi they have a freaking KARIN WAIT NARU OH MY GOD THEY'VE GOT EVERYONE ALSAHLSKASALASHLAKSj *FLINGS BAGS TOWARDS ANNA AND PELTS OFF FOR THE DOOR*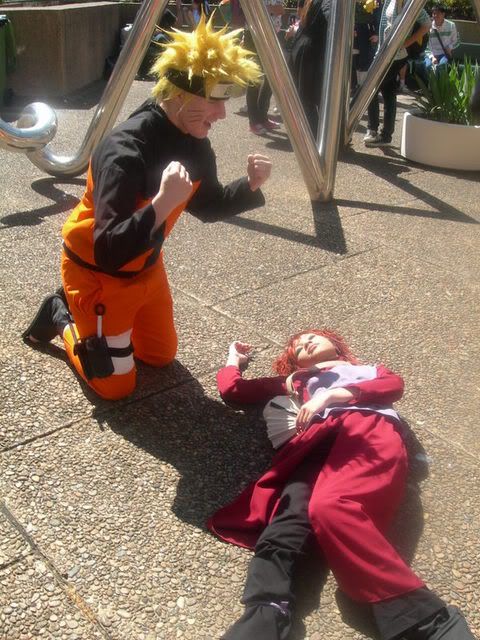 *SPOILER SPOILER* XD XD
Someone in the crowd (seriously not me, I swear): Resuscitate him!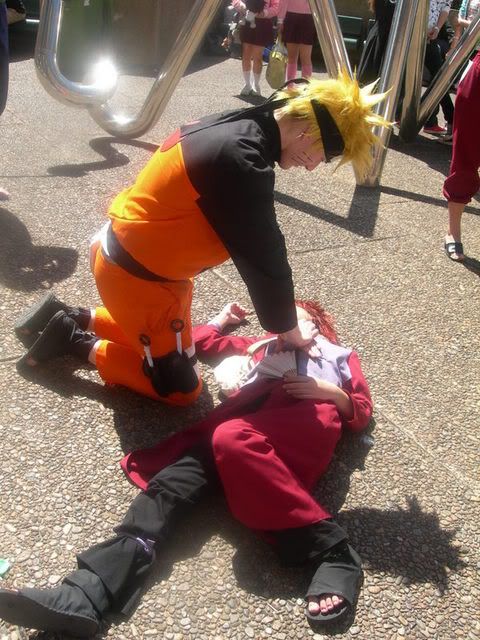 Someone in the crowd (still not me, I swear): I meant mouth-to-mouth!
Naruto:...No.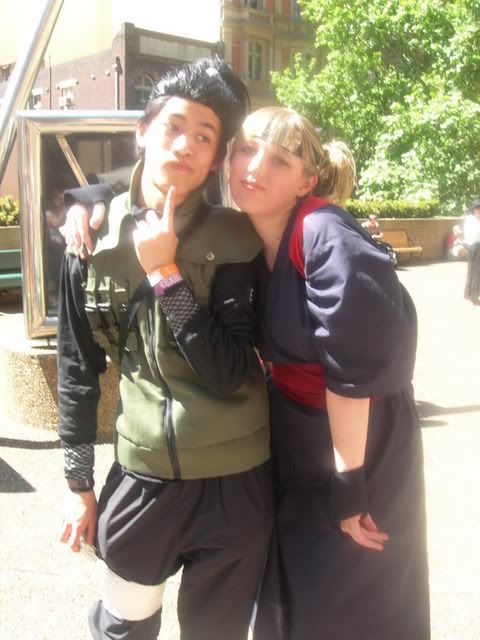 Temari humors me again.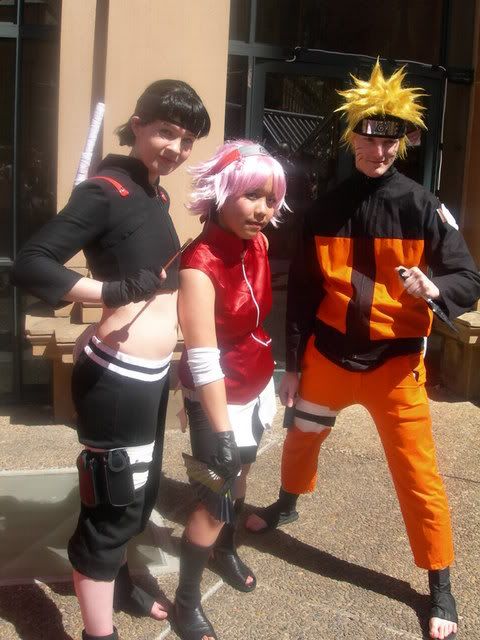 Team Kakashi! I will admit that I was totally crushing on the Sai by this point. >.>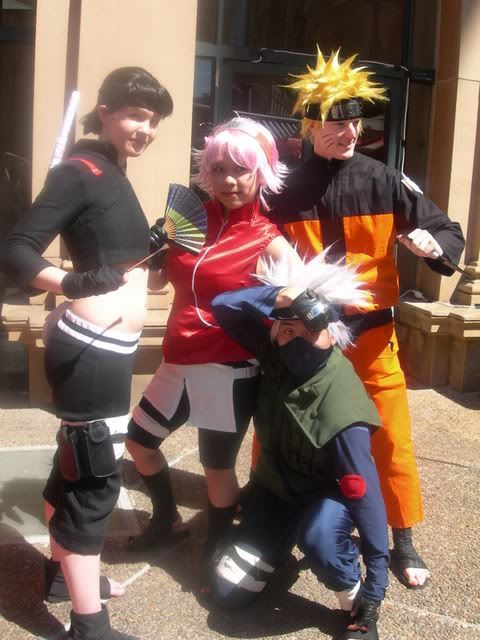 Now with added Kakashi!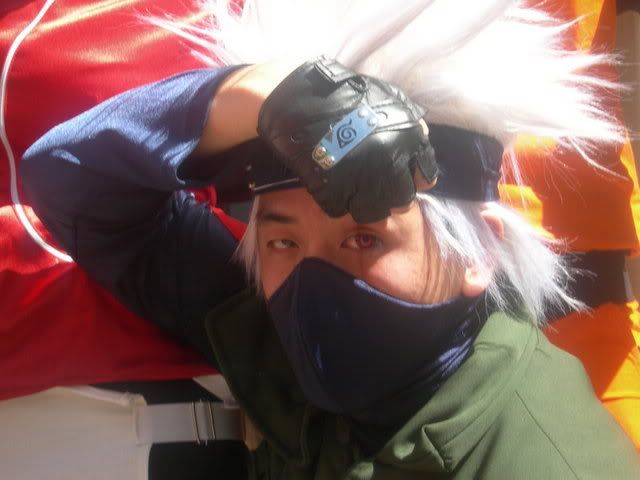 Who was, quite frankly, one of the best Kakashis I've seen.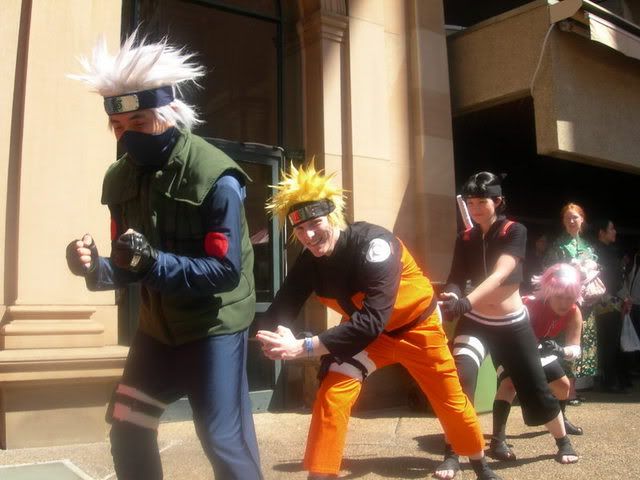 Best. Photo. Ever.
You know, Anna has never really understood my want to cosplay Naruto - because it's been done so much before. My response as to why is always something like "because the people are wonderful, they can laugh at themselves, and they always have the most fun".
She believes me now. :D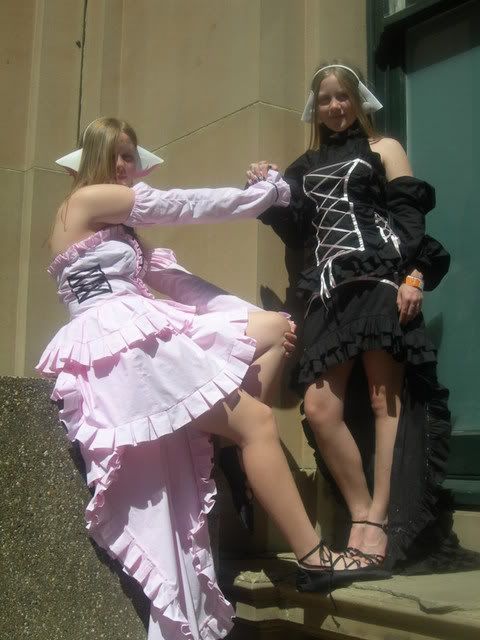 ...and a couple of Chobits for good measure.



I take it back. BEST. PHOTO. EVER.
Me: *runs over, throws herself into a kneel* WAIT WAIT can you just keep doing his hair for a second?
Person I Suddenly Appeared Next To: Uh, why?
Me: Because it's the most hilarious thing I've ever seen.
PISANT: ...*looks again* Oh yeah!
(I just realised I basically labeled a person 'piss-ant', and then loled at myself. Sorry?)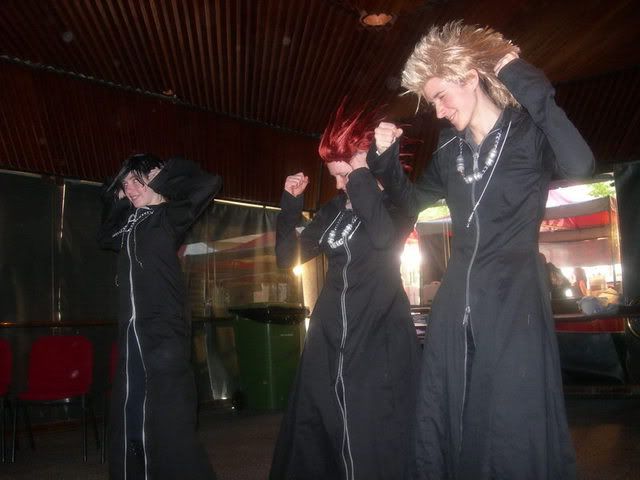 In the Hare Hare rehearsals. Greatest photo op ever.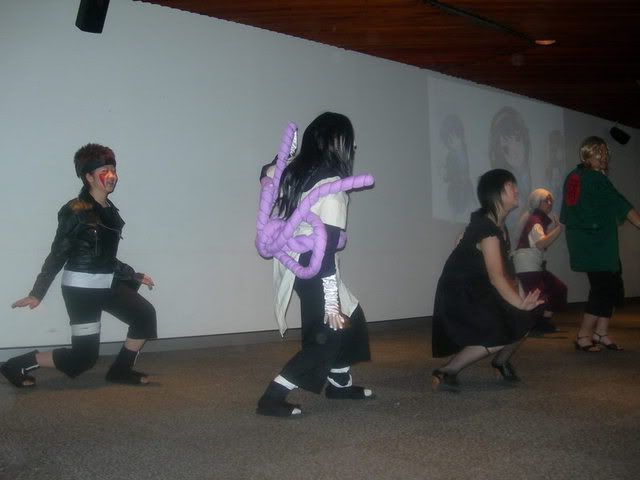 Point proven.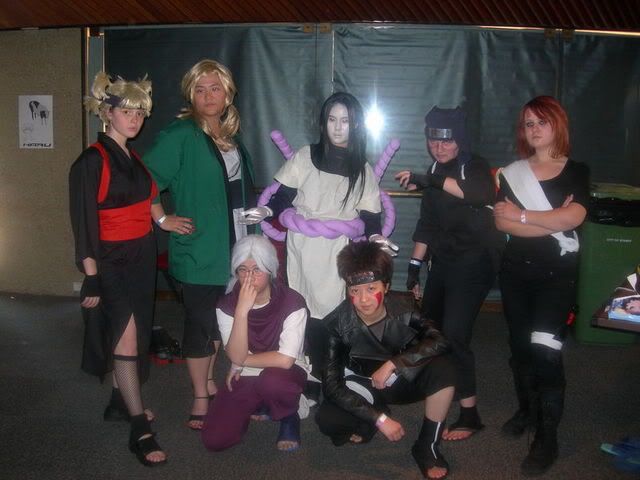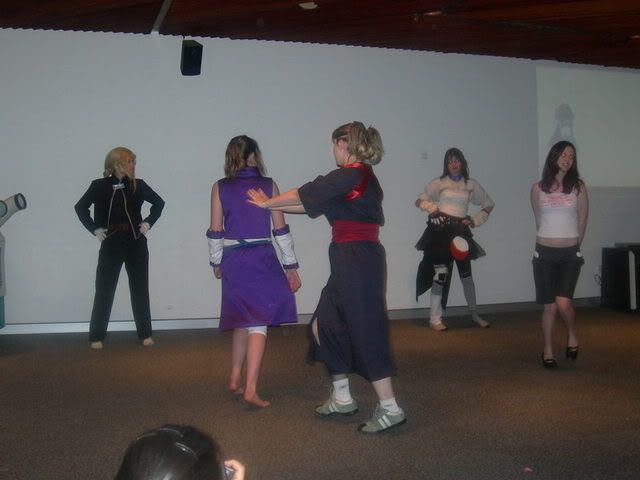 The Ino and the SnJ Sasuke were wonderful too. <3 Chatted to them while clamoring around the air-conditioner. XD



Cosplay marshaling!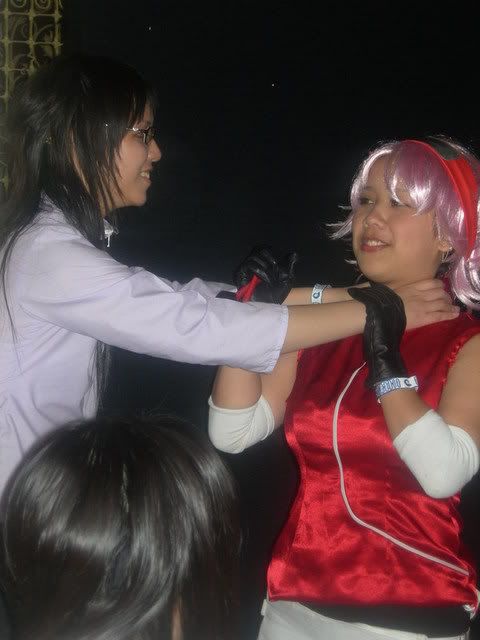 I think the Karin was a bit "...uuuh" when I asked for this photo, but YOU KNOW IT'S GONNA HAPPEN.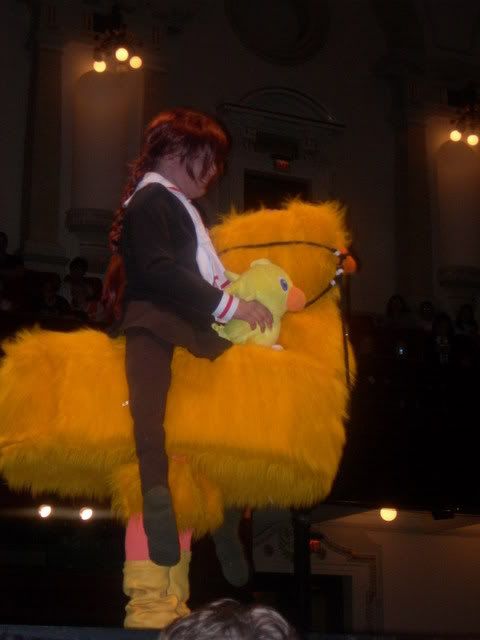 Greatest cosplay ever. It gave birth to the baby chocobo plushie while on stage. XD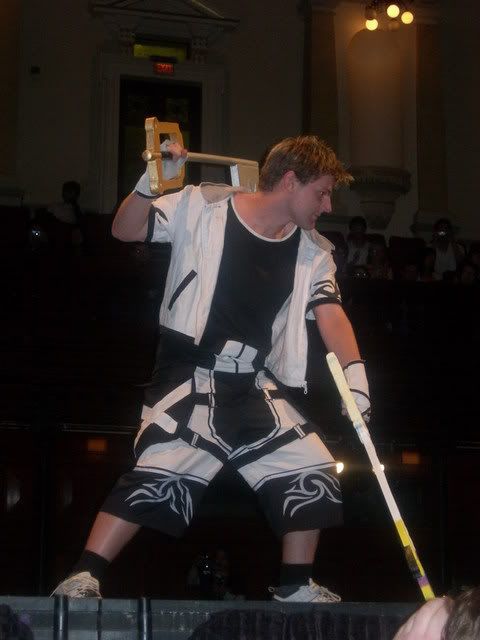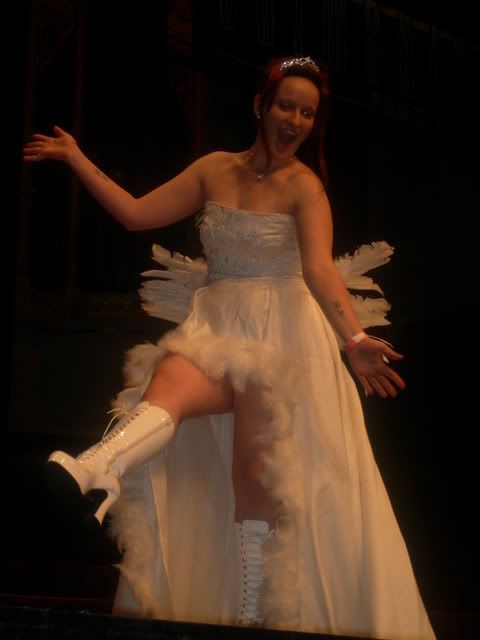 I don't have any better photos of this dress, but it was stunning. Yuna, obviously, in the FFX wedding dress.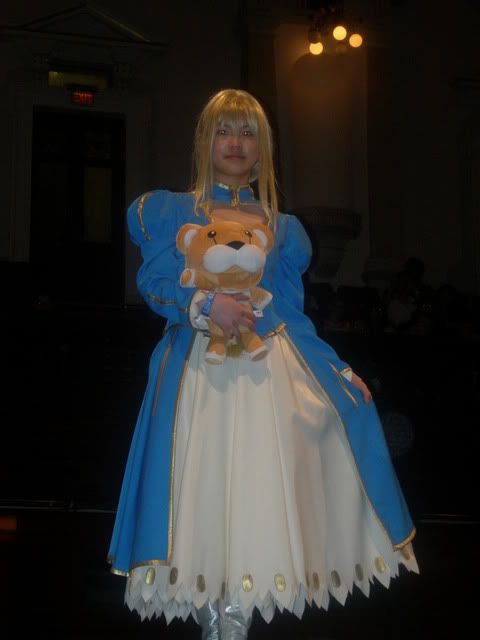 Stunning costume. The detail is even more amazing up close.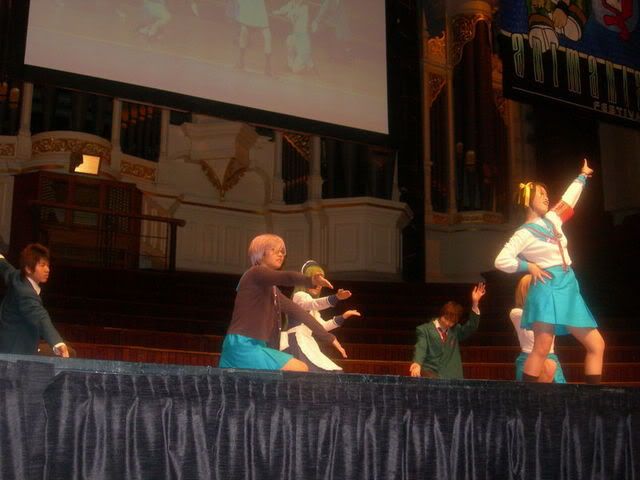 Actual Hare Hare cosplayers! I very nearly asked them about their wig source, they were amazing.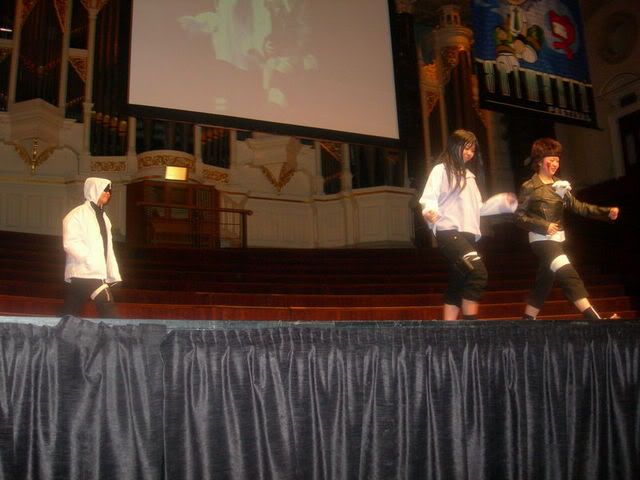 The Naruto group begins! I fling myself towards center stage!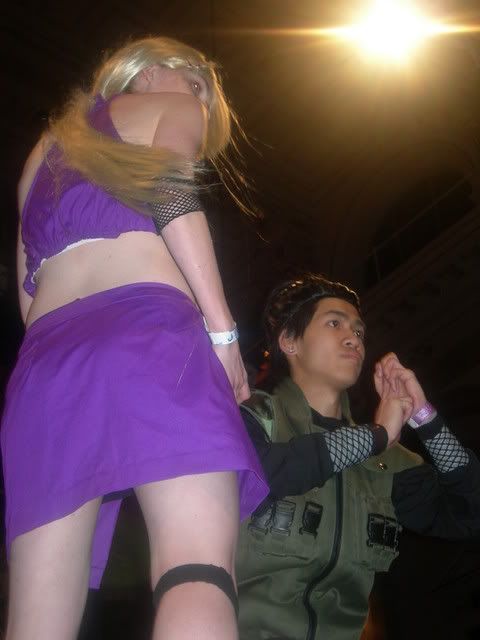 Team 10 (no one had a Chouji DX)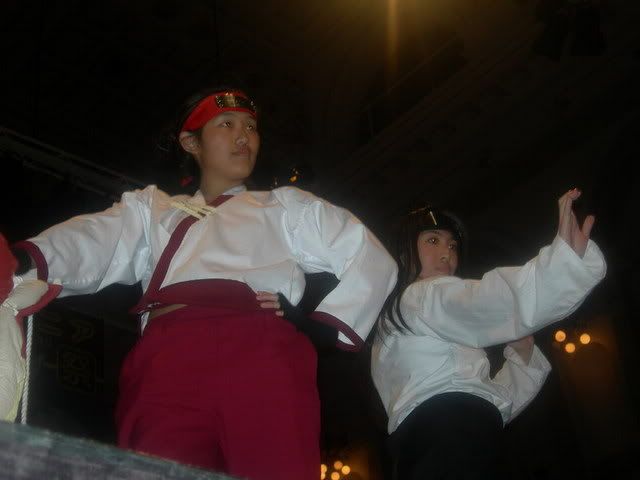 Team Gai (and I'm told the Lee pulled out at the last minute DX DX)



Sand sibs!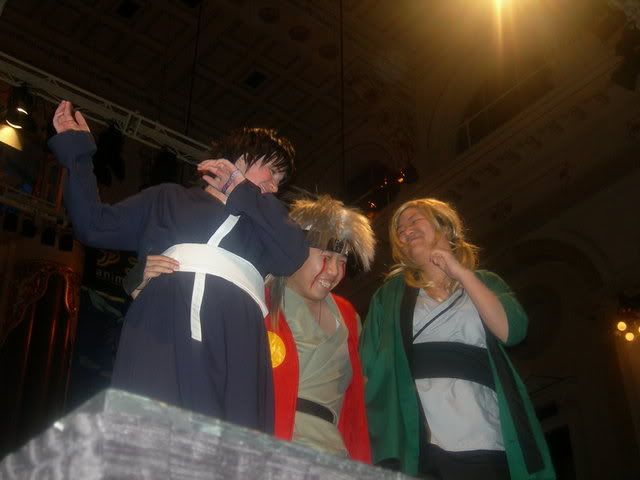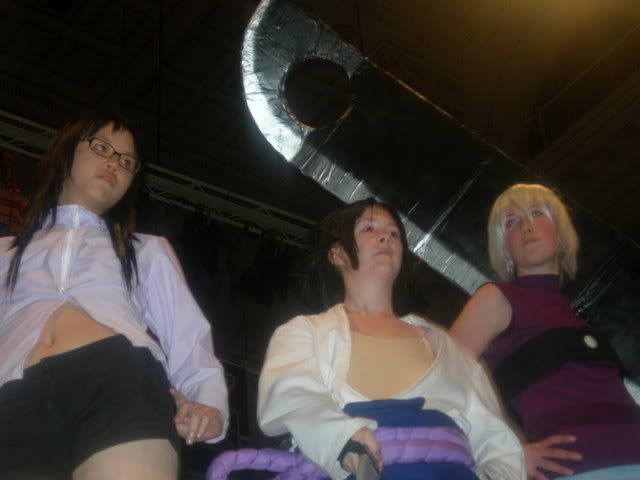 TEAM HEBI FOR THE FREAKING WIN.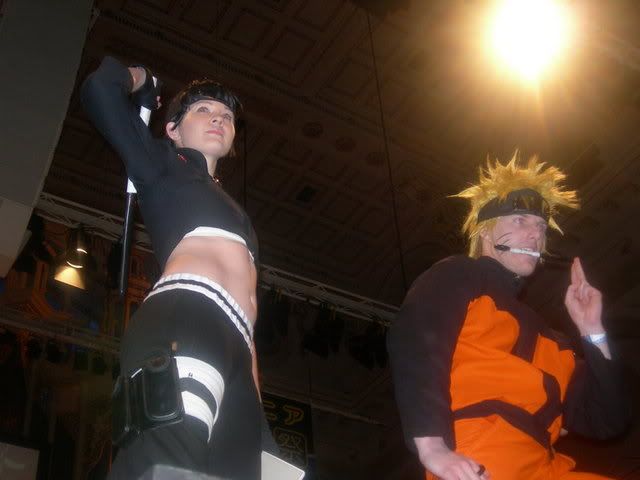 ...I lost Sakura to Naruto's backside. D: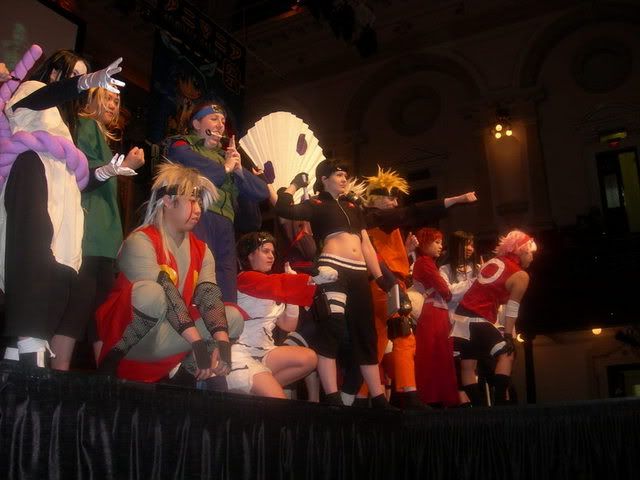 SEE SEE THERE'S THE FAN!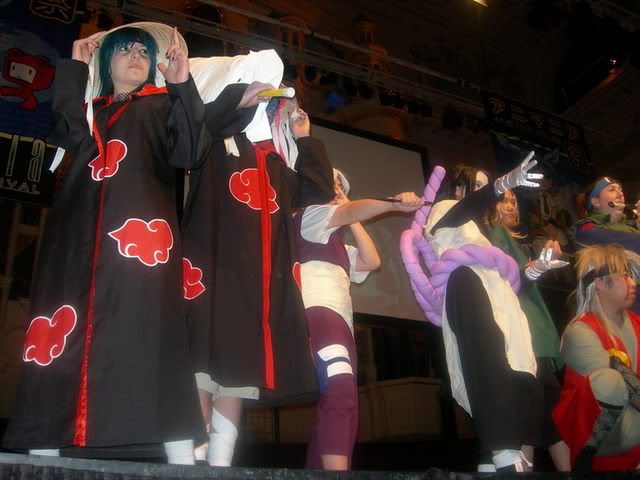 Mooooooooooooore....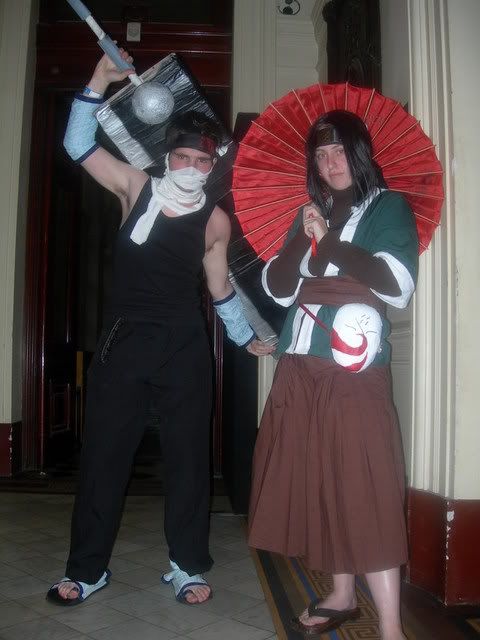 It's a pity these guys didn't manage to nab themselves a place in the group!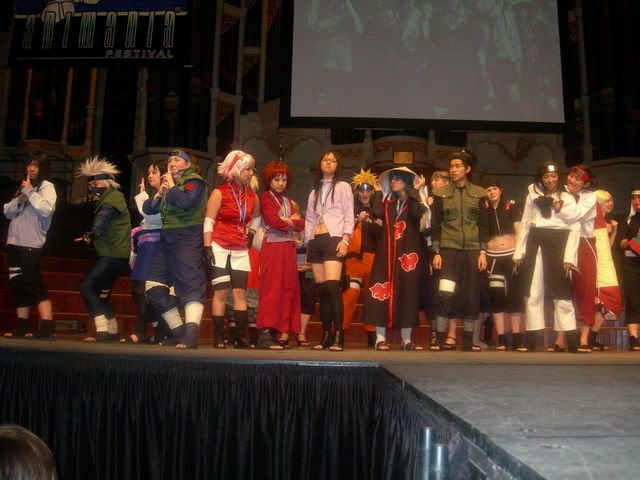 Back up again to collect the prize for runner's up in Best Group.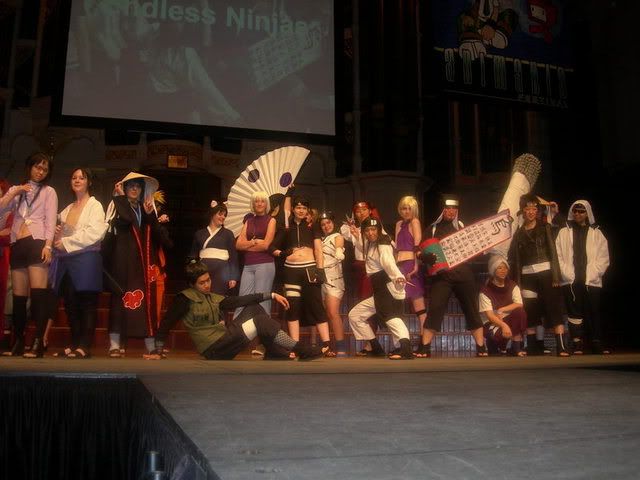 Seeing the group made me realise just how badly I wanted to cosplay Naruto! I already had plans, but now I'm utterly dying to. Bought a wig this morning, and there'll probably be some fairly intensive sewing for the next couple of weeks - in time for Supanova (don't you just love con season?). It'll definitely be Hokage!Naruto, and I may have even roped in an ANBU!Sasuke - if only I could get more speculative future characters! XD

For all the photos, my zipped folder is hosted at megaupload here.

I may post a few more pictures over the coming week, as I nab them off others.

BUT -

A couple of months down the track, I'll probably be able to post the final results of the efforts of our camera crew and Anna's hard work: namely, a COSPLAY DOCUMENTARY. XD If you were interviewed at the con, it was probably for this, so keep your eyes open!

EDIT: HAAHAHA, I only just noticed the on-screen caption in that last photo.